The "column of Peace" (colonna della Pace) is at S. Maria Maggiore, in the square by the church that bears the same name.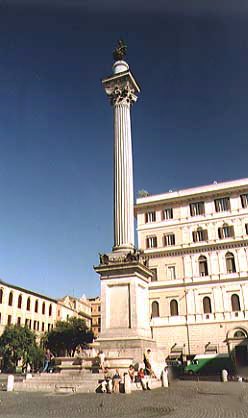 The column of Peace at Santa Maria Maggiore
The column comes from the Basilica of Massenzio, also known with the ancient name of the Temple of Peace, and is the only remaining one of the eight that had originally decorated that large building.
Pope Paul V made it to be removed in 1613-15 because he wanted to place it in front of the Basilica in which he had created the Borghesian Chapel. The work was completed by
Carlo Maderno
; the famous architect also placed a bronze statue of the Virgin Mary with Child, made by Guglielmo Bérthelot, on the top of it and constructed the fountain at the base of the pedestal.
The column, in imethian marble, is 14.3 metres tall.