The Fountain of the Four Rivers (in Italian: "fontana dei Quattro Fiumi") is one of the most popular works by Gian Lorenzo Bernini, commissioned by Pope Innocent X.
According to the legend, Bernini sent a silver prototype to Donna Olimpia, the Pope's sister-in-law, in order to obtain the commission for the job.
In current times, it is among the monuments admired by most tourists because it's placed in the famous Piazza Navona.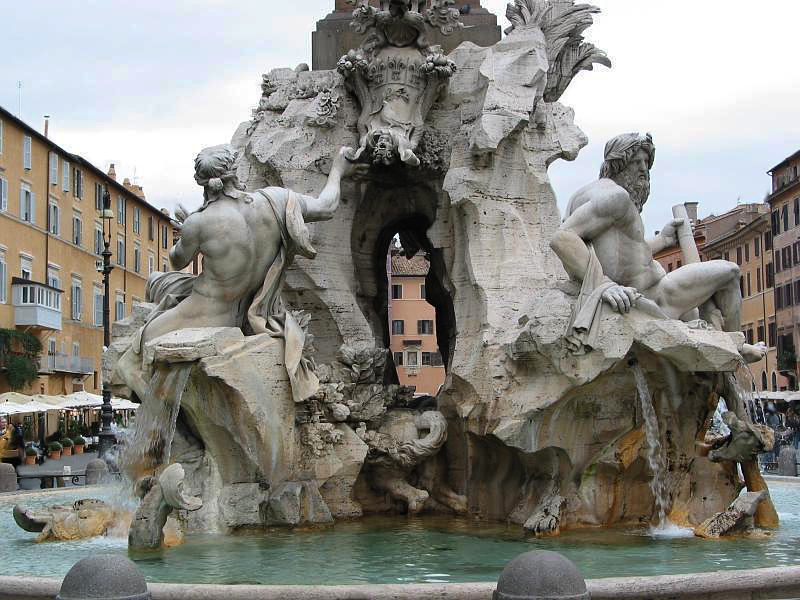 The Fountain of the Four Rivers in Piazza Navona, by Bernini
The base is composed by an elliptical basin on the floor level and an obelisk from the Circus of Maxentius which seems to be supported by nothing, a typical Baroque artifice.
But the eyesight instinctively goes to the statues recumbent over the travertine rock: they represent the longest rivers of the world, one for each known continent: the Danube (Europe), the Ganges (Asia), the Nile (Africa) and the Rio de la Plata (Americas). The actions of the statues are not meaningless. Danube points at one of the two Pamphili family emblems (a dove with an olive twig), Ganges grabs an oar showing how easily navigable is the river, Nile veils its face because of the lack of knowledge on his sources, while the silver coins nearby Rio de la Plata suggest the amazing colour of his water.
It has been noticed that the Rio de la Plata statue seems to cringe and repel the facade of the church right in front of it, dedicated to Sant'Agnese and designed by the rival Borromini, or even in fear that the church would fall. Many believe that Bernini really intended to deride Borromini but it is proved that it's is just a legend born around the competition among the two artists.
The naturalist dynamism of the whole composition is also made up by the marble animals and plants: a roaring lion, two slithering serpents, a rampant horse, a wild dragon and very imaginative dolphin and a crocodile.
When the fountain was unveiled in 1651, the onlookers were enchanted by the majesty and the exotic nature sculpted.