The column of Foca is located inside the Foro Romano.
It was erected in year 608 A.D. in the Roman Forum from the Senate, in honour of the byzantine emperor Foca, who donated the Pantheon to Bonifacio IV; raised from prefect Surdino on a paving that dates from the III century.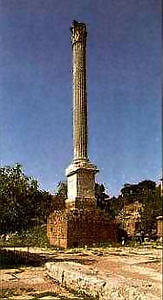 the column of Foca inside the Roman Forum
It's a corinthian column made in marble, 13.5 mt high, arranged on a terraced base placed in proximity of the Rostra.
Nobody knew what it was till 1816, when Lady Elisabeth Foster, widow of fifth duke of Devonshire, brought the pedestal to the light.
Therefore, it was discovered that it has been the latest monument erected in the Forum.