Coming from piazza Venezia, after Largo Goldoni, there is a part of via del Corso which is more modest if compared to the previous area, preserving the look of a street by the eighteenth century: on the left, you can spot the shurch of San Carlo al Corso (Saints Carlo and Ambrogio church), the work started by Onorio Longhi (1612), carried on by his son Martino Longhi the Younger (1619-27), finished in 1672.
It was intended to underline the teaching of
Carlo Borromeo
at the time of his canonization.
The facade is high, parted in three by two imposing columns, by G. B. Menicucci and fra' (= "brother", in the Church) Mario da Canepina, on the design of cardinal L. Omodei (1682-84).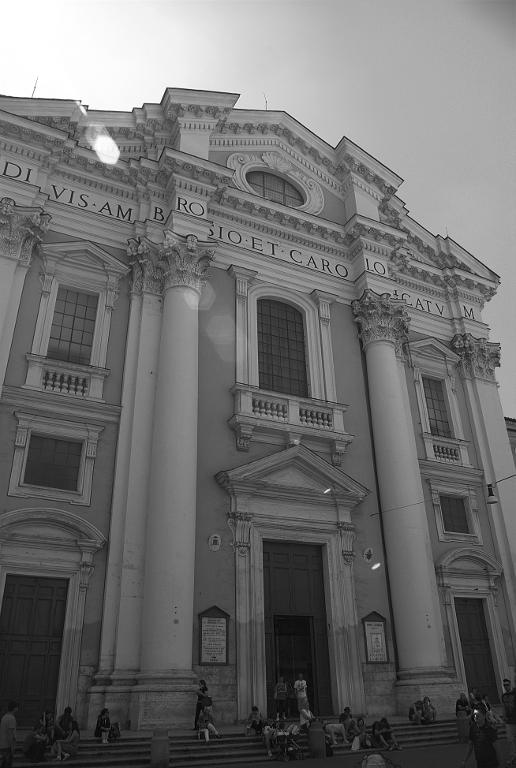 The church of the saints Ambrogio and Carlo al Corso
The dome, among the largest in Rome -but not considered among the most beautiful- was designed by Longhi and modified by
Pietro da Cortona
. The interior is 72 mt long, quite vast yet considered unwelcoming, based on the latin crux schema and divided in three aisles by pilasters of multicolor plaster that feature big baroque statues in the rear side.
The vault of the nave, the dome and the praesbiterium were frescoed by Giacomo Brandi; the lateral chapels wre richly decorated.
On the altar of the right arm of the transept, between the statues of Judith (Giuditta) and David -by Lebrun-, there the copy of the Assumption mosaic by C. Maratti, the original one being in Santa Maria del Popolo.
By the main altar, you see "Glory of the Saints Ambrogio and Carlo", by C. Maratti (1685-90); behind the main altar, over another altar designed by C. Maratti himself, there is a rich reliquary enclosing Saint Carl's heart.
In the depth of the wall to the left of the main altar there is a tabernacle of saint oil (fifteenth century), maybe coming from the church of Saint Ambrogio.
Worth a visit, on the altar of the left aisle, the painting "Saint Barnaba" by P. F. Mola; in the chapel towards the scresty, the crucifex by
Borgognone
and, inside the sacresty, a portrait of Margherita di Savoia, duchess of Mantova (Mantua), by F. Pourbus the Young (this one may be held somewhere else).
Through a small door in the middle of the left aisle, you're taken into an ample porch that runs aside a pictoresque courtyard; it leads in the old chapel of Saint Ambrogio, erected by the Lombardi in 1513 -it replaced the church of S. Nicolò del Tufo, conceded to them by pope Sisto IV in 1471.
In the chapel restored in the Forties, on the altar, you must see the Deposition and two Sibilla's, sculptures by
T. Della Porta
(beginning of the seventeenth century).