Even if Pietro Mennea was not from Rome, his career as an athlete took the man to Rome for one of its major successful races.
Also, he died in march 2013 in the capital.
He was born in the city of Barletta (in the southern region of Puglia, that is why he was known as "Freccia del Sud" which means "Arrow of the South"), from a humble family. He soon showed a great talent for running as a sprinter and his career began in 1971: he won the Italian outdoor title and since then he enjoyed a crescendo with 5 Mediterranean Games gold medals, a third place in the 4x100m relay at the European Championships and the Olympic debut at the 1972 Summer Olympics, that took place in in Munich.
There he was third again, yet defining the distance he was most suited for: the 200m.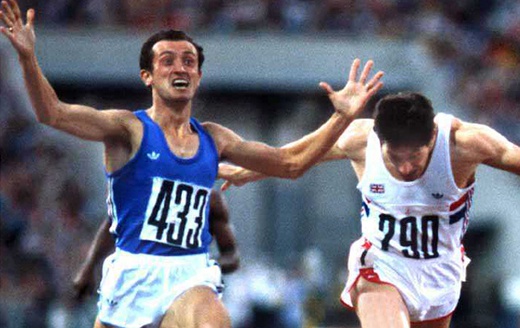 Pietro Mennea wins the gold medal in 1979
He retired in 1988 with the personal best 10.01s (100m, 1979) and 19.72s (200m, 1979) and he's probabbly mostly known for the exceptional duration of his 200m world record that stayed unsurpassed for 17 years, quite a long time for the athetics of the time.
It was in the 1974 European Championships that Mennea earned the 200m gold medal in Rome, also taking the second place in the 100m (first was Borzov, one historcal rival) and in the 4x100m.
Another achievent was participating a fourth consecutive Olympic 200m final, being the first one to accomplish such a goal.
You can learn more about Pietro Mennea at
his site
.