Among the historical villas in the capital city, Villa Torlonia can't be missed. Its entrances are in via Nomentana, via Siracusa and via Spallanzani; it covers an area of 140.000 square meters and is more than 200 years old.
In 1797, the French Jean Torlony bought a vineyard from the powerful Colonna's family; the vineyard was located in via Nomentana and hosted a little house and an estate.
Finding in Italy his country of adoption, Jean Torlony changed his name into Giovanni Torlonia, become marquess and, by administering the finances of the Vatican, extremely rich.
Thanks to his huge fortune he transformed the place which became one of the most luxurious residences in Rome.
The architect Giuseppe Valadier, between 1802 and 1806, renovated the park and the little house turning it into a noble building taking inspiration from the Renaissance Farnesina's Villa. Inside, one can admire decorations produced by the most famous artists of the 19th century such as Antonio Canova, Francesco Coghetti, Bertel Thorwaldsen.
Then, between 1835 and 1842, a plot of land was added in the south area and the architect Quintiliano Raimondi built a theatre in 1840. The last known performance was held in 1905. The theatre has been opened again in 2013.
But the main attraction of the site is the "Casina delle civette" (Little house of the Owls) named after the owls, the recurrent topic of its decorations. The obsession of Giovanni Torlonia jr for the owls brought him the reputation of a mad man.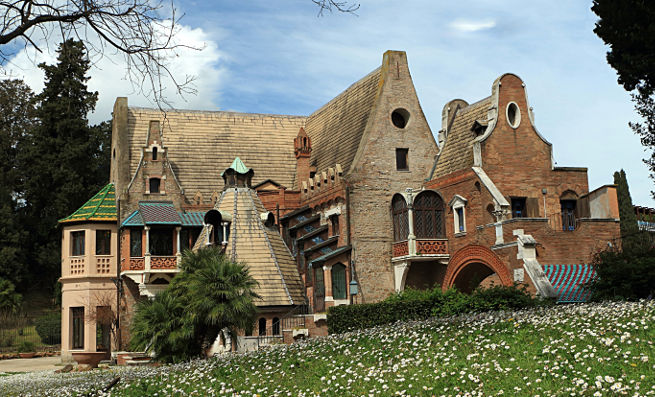 The Casina delle Civette (House of the Owls) in Villa Torlonia, Rome
The first structure was a country cottage. Vincenzo Fasolo, a well-known architect, modernized it during the 1920s making it a liberty-style building which is visible still nowadays.
In 1925 Mussolini rented it till 1945. His wife, Donna Rachele, in War times created a vegetable garden full of potatoes, lettuce, grapevine and corn.
Abandoned after 1945, it has been bought by the Municipality of Rome and is currently open to the public.