Villa Ada-Savoia, known in the past as Villa Potenziani and Villa Pallavicini, is situated in the Salario zone: the wonderful park faces via Salaria (Salaria street) -one of the old roads of the Roman Empire-, Panama street, Petrolini street, street of Foro Italico. The main entrances are in via Salaria, 275c and via del Ponte Salario, 47.
It hosts a gym track with tools, a naturalistic track, a larger lake with frogs, fishes, coypus and wild ducks and a smaller lake, sorrounded by better-kept gardens with flowers.
During spring and summer, in the beautiful framework of Villa Ada sport events, musical and cultural shows take place.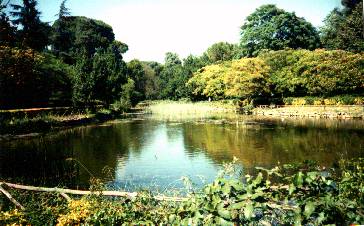 the main lake in Villa Ada, sorrounded by pines and meadows
The first nucleus of the Villa, along Salaria street, belonged to prince Luigi Pallavicini, it was between the end of the eighteenth and the beginning of the nineteenth century. In the census of 1839, it is recorded as property of the Potenziani family, instead. In 1872 they left it to the Savoias (the royal family that led Italy to independence from the Austrian empire) who, to make it their official residence, acquired many sorrounding properties, mostly rural.
When king Vittorio Emanuele II died in 1878, count Tellfner bought the Villa and gave it the name of his wife Ada, hence the designation "Villa Ada".
In 1901 the Villa was re-acquired by the Savoia family: they kept it to the end of the Second World War, when most possessions of the royal family passed to the Italian State; part of the property around remaind to the heirs, though.
Finally, most of the park has been gained by the City of Rome.