Street art in Rome is relatively new, and yet it murales are flourishing on the walls of many buildings, just like if they've always been there.
Street art is not permanent and things may change easily, so note that this text has been written in 2015.
If you are looking for the best murales in Rome, there are places that will not disappoint your taste.

black-and-white street art painting in Ostiense, Rome
Take a stroll in the Ostiense and Magliana area, around via del Porto Fluviale, and you will see a
part of the city that is undergoing important transformations and which hosts some of the largest
street art paintings sprayed on old and new surfaces.
They cohexist along with innovative museums (the Centrale Montemartini), music circles,
a university (Università di Roma 3) and, in spite of its totally different look, it
is just nearby the city centre and the famous Trastevere quarter.
For the sake of completeness, let me add that the area is also very live at night, with pubs,
(usually cheap) restaurants and discos.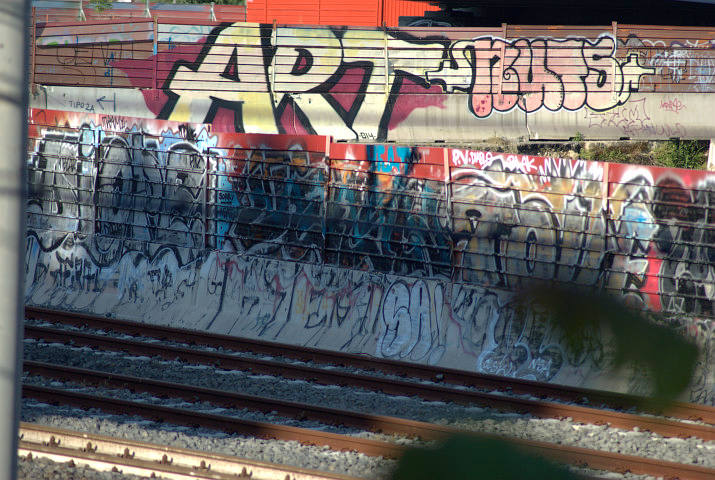 murales along the Magliana train station rails
Also the San Basilio quarter hit the local news when a number of artists joined their forces to
vest the residential buildings with imposing paintings.
San Basilio is in the outskirts of the city, so if you're interested in street art it is a good idea
to plan the trip in advance and be there during the day, there is not much life at night-time.
The best way to explore the city for street art is to ask for directions on the spot, so just go
there and ask! We suggest tourists who do not speak Italian to try the word "murales" if
"street art" is not understood.
We are not putting the best images here, intentionally. You can "google" for some more, but why should we spoil the surprise?