Lens Test: Super Cosina MACRO 80-200mm f 4.5-5.6
for Pentax-K bajonet (PK)
series number: PK80002893
date: April 10th, 2017



This is my first lens review. I admit I'm going to be mostly subjective because I honestly don't have the time for a better job as sometimes I do for the lenses I use most often... I leave that to the real pros out there.
Today it is a Super Cosina MACRO 80-200mm f 4.5-5.6 Pentax-K bajonet (PK) mounted on a Pentax K50D digital body, what I consider a very good camera with a 16MP APS-C sensor.
Previously I owned a Pentax K200D, the K50D is a huge step forward and its sensor outclasses the possibilities of most lenses I own, especially the old ones, so it is a proper rig for the task; the same could not be said for the K200D.

I bought this Cosina macro zoom for € 20. Apparently this may be a common price for this lens but from the point of view of the optical quality I think it's a real bargain. The interesting thing about this lens is that its sharpness remains decent all over the frame to the borders (on APS-C) starting from the maximum aperture, while on the contrary one could expect a bit more in the centre.
From the point of view of the mechanics, this lens seems to be very well-built, precise in reliable in the movements. Probably because I've been lucky as the item is practically brand new. Likely it's never been used.

Colours are rather natural while old Pentax lenses deliver somewhat more vibrant tones. This is not necessarily a bad thing, it is more a matter of taste to me. Also you must never forget that in the digital world this is much less relevant, due to the post-processing facilities. The same can be said, for instance, about micro-contrast. Lack of sharpness and colour aberrations, on the contrary, have more relevance because there is not much you could do to fight them. As this lens is good in regard to these last aspects, I give it one more point!

The best reproduction ratio you can get with this lens is 1:4 at 200mm, so it can be barely defined a "macro", I would not count on this feature though it can be of some use.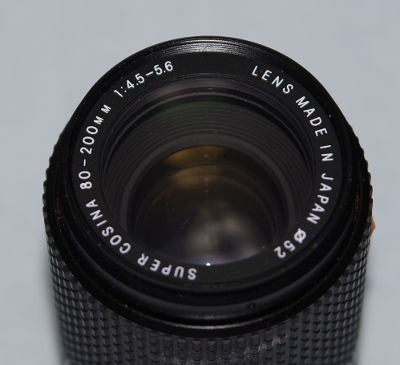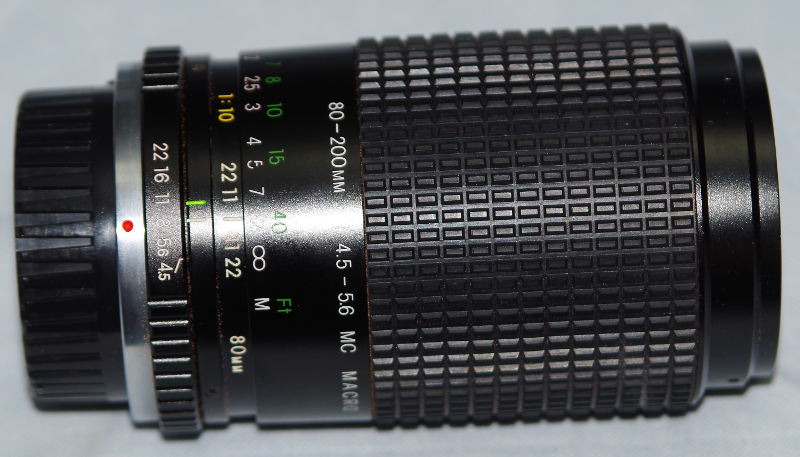 Why would you want a lens like this one?
Today, and especially if you come from the film era like I do, mostly for fun, maybe for nostalgy, sometimes for curiosity. Yes, it is a good lens, but if you already own a modern zoom lens with a similar range, likely you'd better enjoy the autofocus and electronic control of the aperture. Otherwise, if you don't use these focal lengths very much, you can get a good lens for almost nothing but beware, again: the lack of autofocus can be really annoying, unless you can take your time and use the Live View function, or you possess a fll-frame K1 and a very good eye.
Why you definitely wouldn't like this lens? Indeed, a minimal of aperture of f4.5 at 80mm is a bit small, especially if you intend to do manual focus without much light. It is true that it helps keeping the body rather small, but you definitely should aim at a bit more here.

What follows is a series of test images where full-magnification parts of the photo are put together: the four corners (well, almost-corners, with a margin of 150 pixels) are in the left and central columns; the centre of the picture is in the right column, on the top; just under it some information coming from the in-file recorded information (not much, being this old lens lacking the Auto-aperture feature).

The images explained:


| | | |
| --- | --- | --- |
| top-left corner | top-right corner | center |
| bottom-left corner | bottom-right corner | [mostly unreliable] information |


Alas, I could not place myself with a perfectly perpendicular view of the palace but given the distance this is not a problem; the difference between the sharpness at corners is most likely due to some small misalignment of the lens. Many photogrpahers who notice these details know that this is very common issue, even with modern lenses.
To understand the full potential of the lens I'd point to the corners where you see some unexpectedly good results.
As it is most common, the best results come at the shortest end of the range (80mm) but also at 200mm the image is not shabby at all.
Chromatic aberrations are definitely small if not negligeable, lateral CA is not an issue. I know you need some more contrast to evaluate this aspect fully, but I think there is enough to see.

Some chroma noise has been produced by the sharpening applied in post-processing, where I first worked the images from RAW format to TIF with RawTherapee and then I applied a script of mine that cuts the five parts and applies some (more) sharpening, plus adds the text with the information.



PLEASE IGNORE THE TEXT IN THE PICTURE, GIVEN THE (old) KIND OF LENS, IT IS UNRELIABLE

focal length 80mm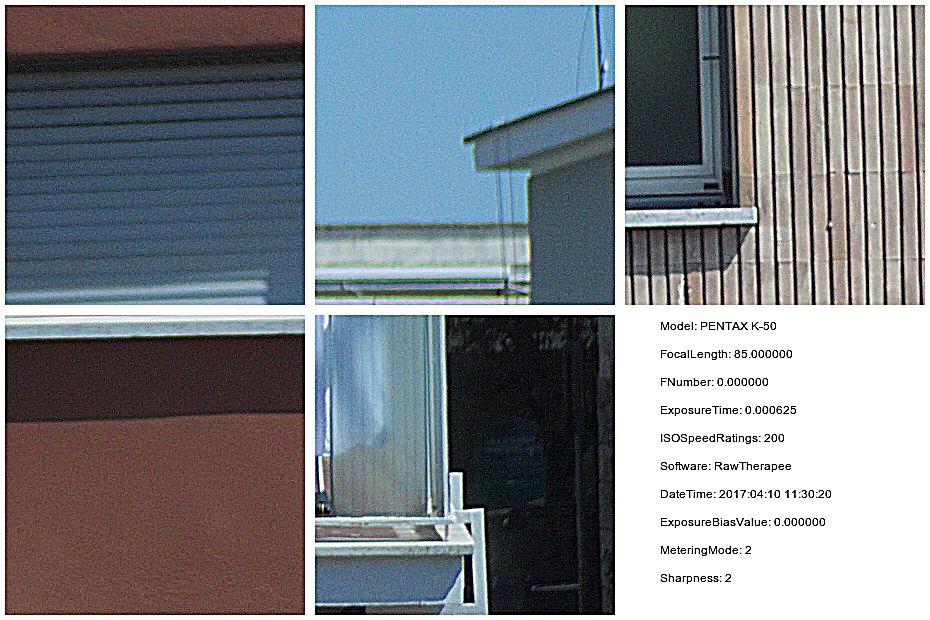 at 80mm f4.5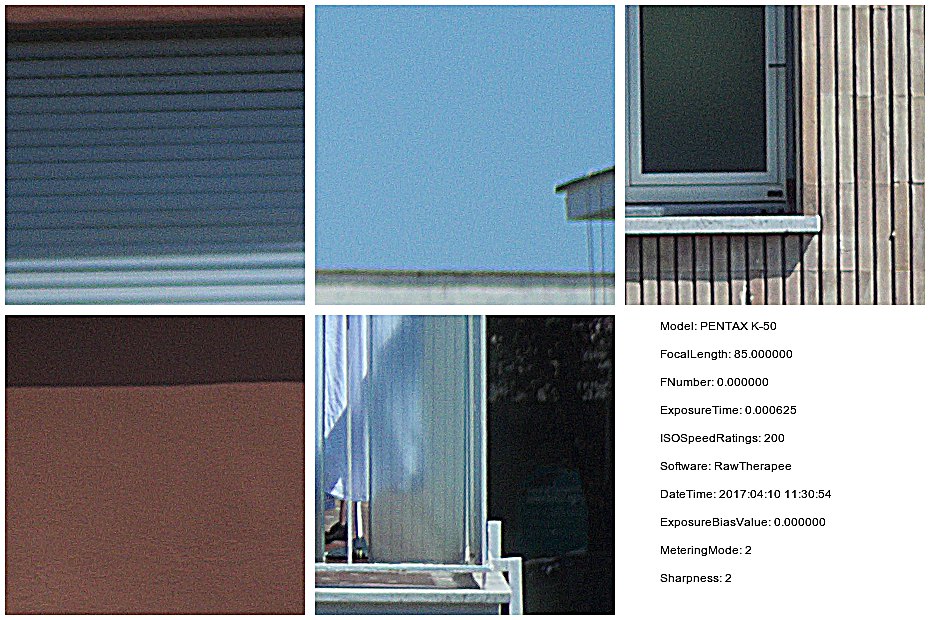 at 80mm f5.6
at 80mm f8
focal length 135mm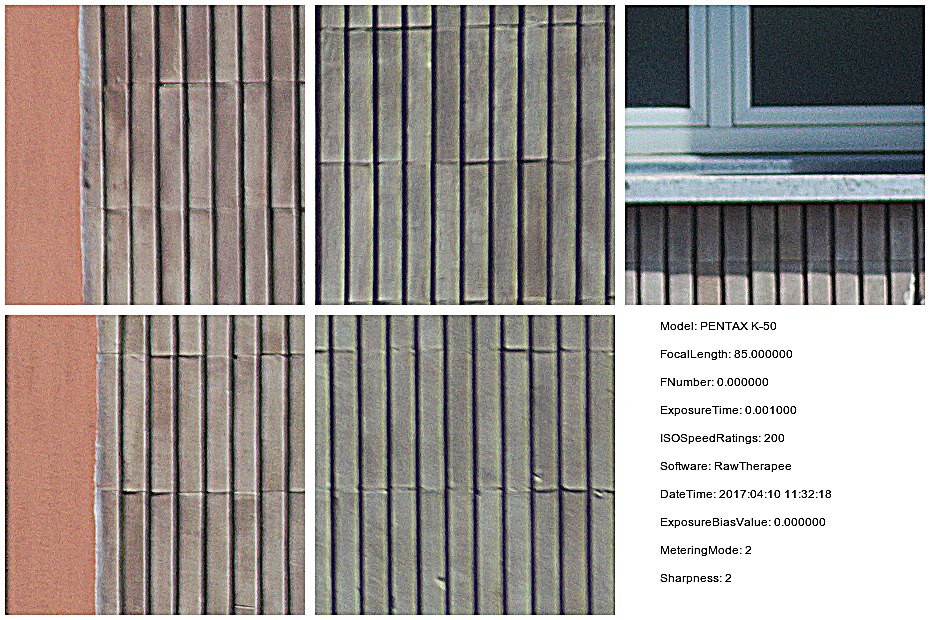 at 135mm f4.5 (or a bit more?)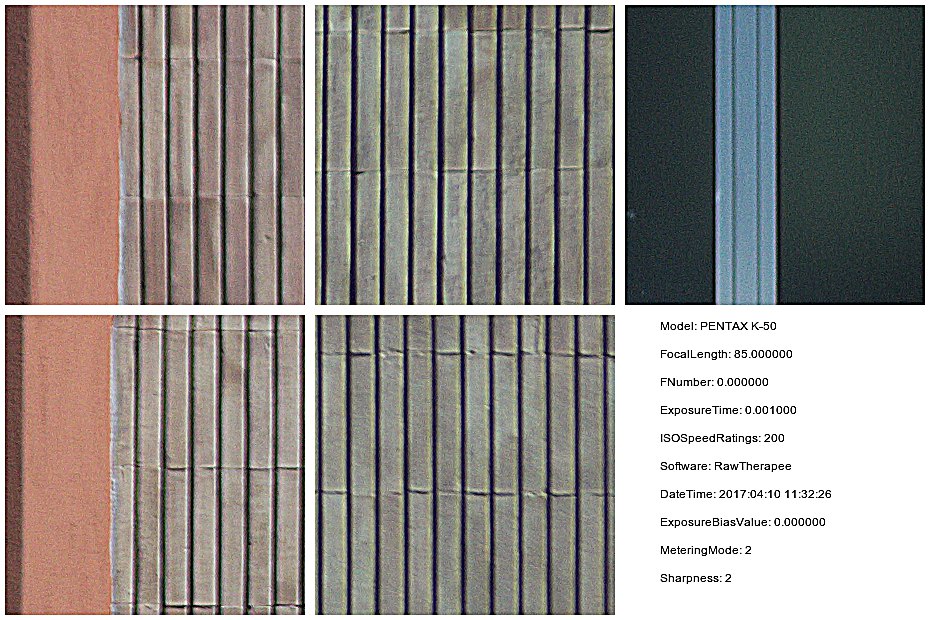 at 135mm f5.6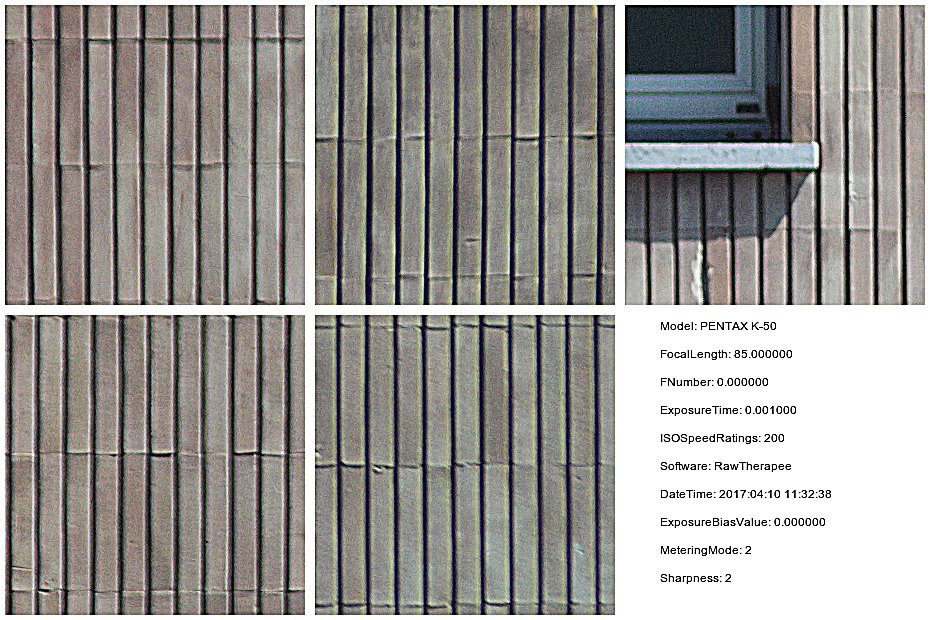 at 135mm f8
focal length 200mm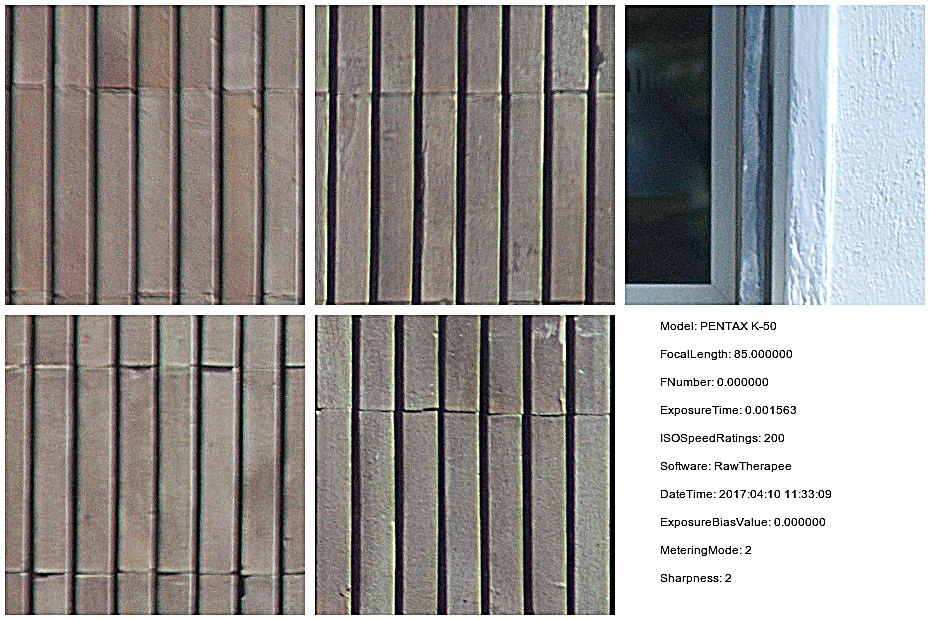 at 200mm f5.6 (you read f4.5 on the knob, yet you know it's not)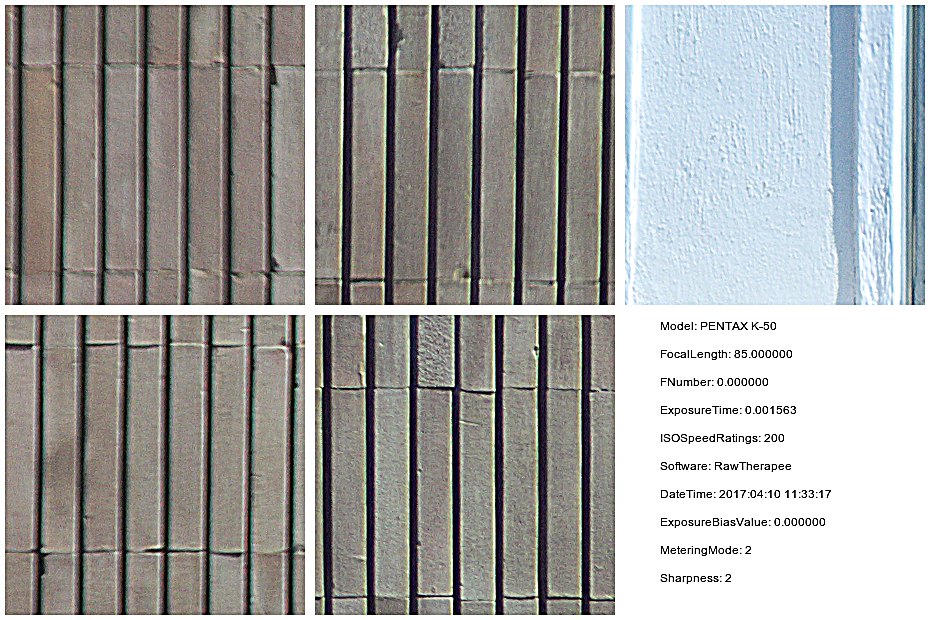 at 200mm f5.6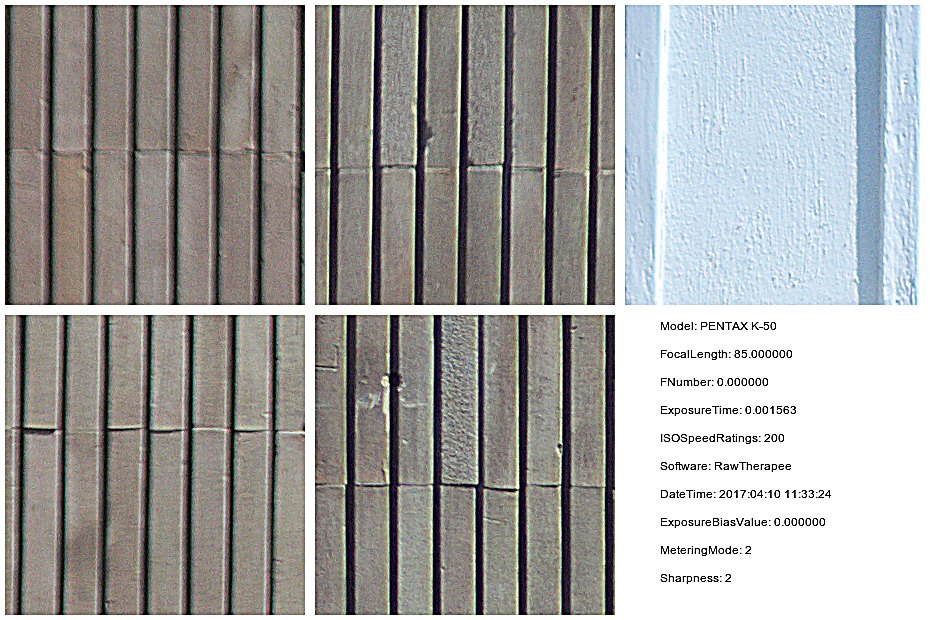 at 200mm f8